The 4R laboratory
More than a concept
Horn & Co. Analytics GmbH is an important part of our group of companies. The environmental laboratory is the backbone of the Horn & Co. Analytics division with regard to tested quality and safe analysis.

We rely on the proven elements of the 4R-concept: speed, local presence, variety and problem solution.
Are you interested in our services? Arrange an appointment today and get to know us.
We would be pleased to welcome you at Horn & Co. Analytics GmbH.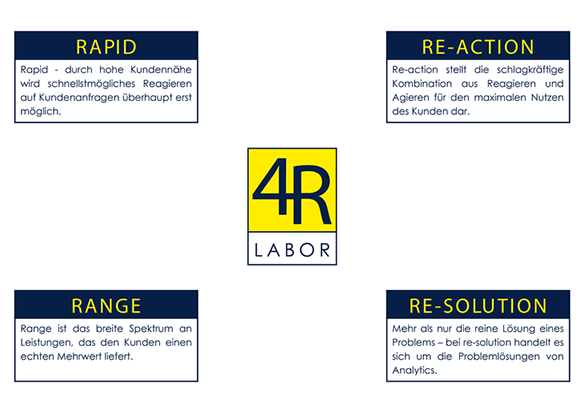 RAPID: Speed is a much-used term particularly in technical environments to express outstanding speed (e.g. Transrapid). Quotes are processed quickly and intermediate analyses and results are prepared quickly to ensure constant speed of implementation and capacity to act.

RE-ACTION: Local presence represents a powerful combination of reaction and action to achieve maximum customer benefit. Only local presence allows us to get to know our customers' needs, anticipate their problems and find solutions quickly. Our experts in the fields of Material, Environment, Hygiene and Sampling keep regular, personal and direct contact with our customers, which is essential for joint success. However, anticipating customer requirements allows us to act autonomously in the interests of our customers.

RANGE: Variety is the wide spectrum of services that offers additional benefits to customers. A variety of innovative solutions provides customers with crucial advantages.
RE-SOLUTION: Problem solution involves more than just solving a problem. Re-solution means problem solutions provided by the Analytics division. Cause analyses are carried out in the production environment, providing specific strategies that are based on the competence and experience of employees from different fields. The needs and requirements of customers are fully considered. Solutions comprising targeted and refined recommended actions are what Analytics always strives for.